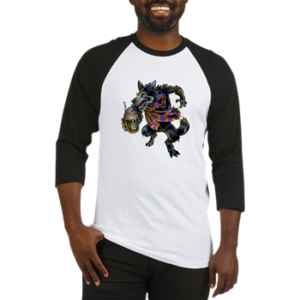 There you are, staring into your closet, wishing for a fashion miracle to happen.  "Why oh why don't I have a shirt with a werewolf on it? How will I ever be cool at the craft brewery/tailgate market/gym if I don't stride in wearing a werewolf on my shirt?"
This is a common concern here in Asheville, NC, and all around the world.  I'm here for you today with a solution.  You can have werewolf-wear delivered right to your doorstep.  Need a jersey? A hoodie? A t-shirt? I've got you covered.
All you need to do is skedaddle on over to my merch store on Cafe Press and go wild!  If you join the Cafe Press email list, they send out great coupons all the time that can be used in my store so you can come back and get that werewolf shower curtain, too!