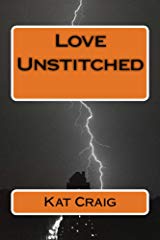 This book was unplanned!  I rented a hotel room for a couple days to work on some short stories set in Asheville that had been bouncing around in my brain for several months.
I sat down with my notebook and pen to write, and the characters of the Asheville short stories were not what flowed onto the pages.  Instead, essays and thoughts around love came tumbling out.
When I finally put the pen down, I didn't have what I expected at all.  I also had a weird feeling about it, like I needed to do something with this pile of words.
Driving back home from the hotel, I decided I would type everything up and publish it on Amazon as Love Unstitched.  It felt cathartic to publish it, like by posting it online, I was putting some ugly feelings down and walking away from them.
Those Asheville short stories still aren't finished, even after all this time.  I pick them up, noodle around a bit, then put them back down.  I may revive that project, or like so many projects, it may rest half-written in one of my zillions of spiral notebooks.