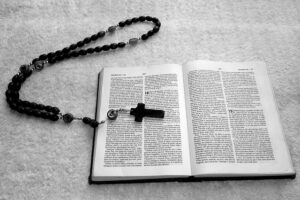 I originally saw The Exorcism of Emily Rose at a movie theater in Myrtle Beach, South Carolina. I recall it vividly because of how suggestible I apparently was.
In the film, clocks stop at 3 AM and strange events, allegedly demonic in origin, happen at this time. A priest in the movie explains that 3 AM is the Devil's Hour, mocking the Holy Trinity. I'd never heard of this idea that a specific hour of the day was more evil than another.
The movie was based upon the true story of Anneliese Michel, a German woman who died after an exorcism in the 1970s. For me, seeing "based on a true story" usually amps up the thrills. This one was no different; The Exorcism of Emily Rose scared the bejesus out of me.
For a few months (yes, MONTHS) after watching the movie, I would wake out of a sound sleep at 3 AM. Prior to the movie, I didn't wake at that hour, or any hour until my alarm went off. Night after night, I would wake at 3 AM and usually feel concerned that something nefarious was afoot.
One night, I realized I'd never had any concerns about waking in the night at any particular time prior to viewing this particular scary movie. I'd never had any reason to be scared when it was 3 AM. Thinking it through, I became aware that I'd taken this idea from a piece of entertainment and let it shake me up! I couldn't believe how suggestible I was, how open to receive this movie tidbit as fact.
It was my own suggestibility that I considered when I watched The Exorcism of Emily Rose last week, and that awareness gave me a new slant on the suggestibility of the main character. Emily comes from a highly religious home and goes off to college. She goes to a dance and even canoodles a bit her boyfriend.
Imagine how seriously someone might believe they had sinned if they had come from such a devout household. How does she rationalize what she's done? How does she come to terms with her choices when she feels such shame and guilt?
The only acceptable answer that her she and her loved ones could get onboard with: demonic influences. Emily wasn't acting of her own freewill. She was possessed!
Could a person convince themselves that they are filled with demons? I don't see why not. I, a typically way too logical adult, managed to be convinced for a short time that 3 AM was chock full of evil simply by watching a film. It seems reasonable that someone from a strict upbringing could convince themselves that the Devil made them dance and smooch.
I have no way of knowing if Anneliese, the woman that inspired the film, was impressionable enough to believe being possessed was the only explanation for her thoughts or behaviors. Maybe Anneliese had an untreated mental illness. Maybe Anneliese was living with the results of a traumatic brain injury. Or maybe, just maybe, she really was possessed by something otherworldly? You can text me your thoughts when you find yourself awake at 3 AM.