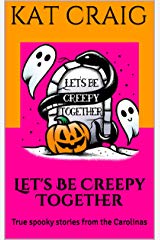 This is a super short read, but it is one of my favorites.  These are true stories from my life experiences with ghosts and other things that go bump in the night.
I asked an artist to do the ghost design for the cover based on some ideas I had, and I love the design she created.  I love this design so much it's available on mugs and t-shirts on CafePress.com.
I think there will be more of these stories to come, or perhaps I will share bonus stories to my website followers!