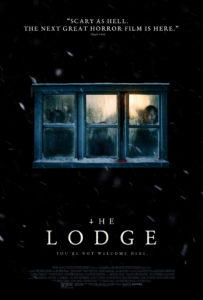 Sunday is usually our day to get out of the house in search of some fun.  With both of us fighting off some February germs, my sweetie and I decided to take it easy and just catch a movie.
We'd seen the trailer for The Lodge a few weeks back when we went to see Color Out of Space.  I thought The Lodge looked suitably creepy and have been on the lookout for it to land in the local theaters.
This is not a blood, chainsaws, and jump scares movie.  This film is a heavy, stressful kind of scary.
"Monsters are real, and ghosts are real too. They live inside us, and sometimes, they win." — Stephen King
You have Dad's new girlfriend caring for his two kids in Dad's winter vacation cabin just before Christmas.  Dad's a workaholic that skedaddles back to his job in the city, leaving the kids with this woman who is pretty much a stranger to them.  He'll be back in two days, so what can go wrong?
Everything goes wrong.  The kids are jerks.  The girlfriend is more than a little off her rocker.  Let's toss a blizzard into the mix and lose power so the cell phones are dead.  Everyone's stranded in this cabin miles from nowhere with no communication and no vehicle.  Sounds like a super good time in the making, right?
What's horrific in this movie is the churning of emotions.  The landscape is bleak, frozen white as far as the eye can see.  The situation is awful and getting worse every moment.  Our characters are cold, hungry, and desperate.  The two days that Dad is supposed to be gone seem more like a month.
Who is the villain in this movie; who is the monster?  Every character shows their ugly side, their darkness, at some point, but they also show their weak spots.  They are all at fault on some level; that's why the movie stressed me out, because there really are no innocents and there is no happy ending lurking around the corner.
When the credits rolled, I was like, well, at least there weren't screaming alpacas (Color Out of Space was stressful, particularly the alpacas).  I let out a sigh of relief for being set free from the weight of this movie.
The Lodge is scary because humans are terrifying.  There are no vampires or mask-wearing nuts roaming the woods, but this movie doesn't need those gimmicks.