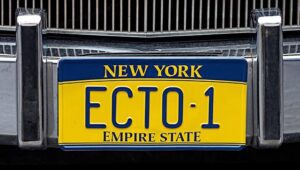 I fully admit my bias here: I love the 1984 Ghostbusters. Anytime it's on the big screen, I go and see it again. You can't sway me. I don't care how the special effects hold up. It was fantastic seeing it on the big screen as a middle schooler, comedy and spookiness coming together as a total treat.
Bill Murray is 100% a womanizing smarty pants in the 1984 film, and it doesn't bother me. That's the character he played in several movies of the time. Would it fly now? No. What's considered comedy has changed since that time, but it works for the time this movie hit the box offices.
I wasn't particularly jazzed about the 2016 Ghostbusters with an all-female cast when I first heard about it. I love the original Ghostbusters crew. I didn't want to see Ghostbusters with different actors, male or female. I think that's important enough to reiterate: I don't care who they were putting in the cast; if it wasn't the original gang, then it wasn't going to float my boat.
The 2016 movie is ok. I don't think it's bad, but I wasn't terribly excited to watch it again for class. One thing they tried to do with 2016 is keep the story as a comedy. It's supposed to be funny, and there are some laughs to be had as they bust the ghosts running rampant in New York. The comedy just isn't quite as tight as the 1984 film, and the feeling of a team just wasn't there for me.
I'm going to go a step further and bring the 2021 Ghostbusters into this. There are way too many emotions lurking around the 2021 film. Instead of holding to the comedic code, we're supposed to rally around Spengler's bitter daughter who is certain her dad abandoned her for no reason. Gross.
My Ghostbusters don't have teary-eyed feelings! My Ghostbusters have laughs and a cool theme song!